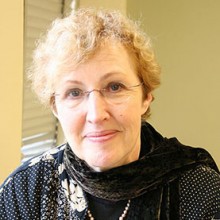 Last Friday my teacher Olga Kagan died. She was a professor at UCLA's Slavic Department and I am privileged to have profited from her insight, experience, knowledge and wisdom, as well as her warm encouragement during my graduate years on that fine campus. Others have written eloquent obituaries with all her amazing professional accomplishments and her astonishing biography. I would just like to put down a few personal thoughts to commemorate this brilliant woman.
I remember how during my first years job searching, I struggled to write the often-required statement about my teaching philosophy. I was a relative greenhorn in the classroom and so I closely followed Olga's advice. To say that my early teaching philosophy statements were exclusively my own would be brazen to say the least – it was essentially her philosophy, after all- but over the years, I built on the foundations that she laid and were I asked today to write a teaching philosophy I would have quite a lot to say; none of it would have been possible without her generous guidance. It is an inheritance that I am deeply grateful for.
It is also a responsibility to carry the torch. My field of research and academic business may differ from hers—I no longer teach language, have hardly anything to do with Russian language or literature, and rarely find myself in a classroom setting. But even though my focus may be different, the underlying approach to how I work in, say, a workshop setting or even a conference has not changed: Besides the more technical aspects, I carry forward her open approach, her welcoming of dialogue and her fearlessness in not knowing all the answers.
Olga's joy of teaching and learning was infectious and she kindled that light in so many of us. Her approach to teaching has served me well and, I hope, the same applies to my many students over the years and across the many countries where I have worked. I hope I did – and continue to do – her legacy justice.